FOREVER 2019
Love your skin to better love yourself: what if this summed up women's addiction to their foundation? Not simply concealing, but truly revealing all the skin's sensuality – therein lies the true magic of foundation. In 2019, Peter Philips, Creative and Image Director for Dior Makeup, reinvents this seduction and self-confidence booster with Dior Forever.
"WHATEVER RELATIONSHIP WOMEN HAVE WITH THEIR MAKEUP, EVERYONE WANTS THAT PERFECT, SUBLIME COMPLEXION THAT FOUNDATION GIVES THEM." — PETER PHILIPS
The iconic Forever fluid foundation, a longtime reference thanks to its high-perfection, imperceptible and long-wearing formula, now goes even further. Today, it offers all women longer 24-hour wear* with sensational comfort thanks to a reinforced skincare action. A new, highly desirable, Dior Forever Skin Glow foundation has been added to the now-cult natural matte finish. Women's hearts will oscillate between Dior Forever and Dior Forever Skin Glow, depending on their style, their mood and the time of day.
* Instrumental test on 20 women.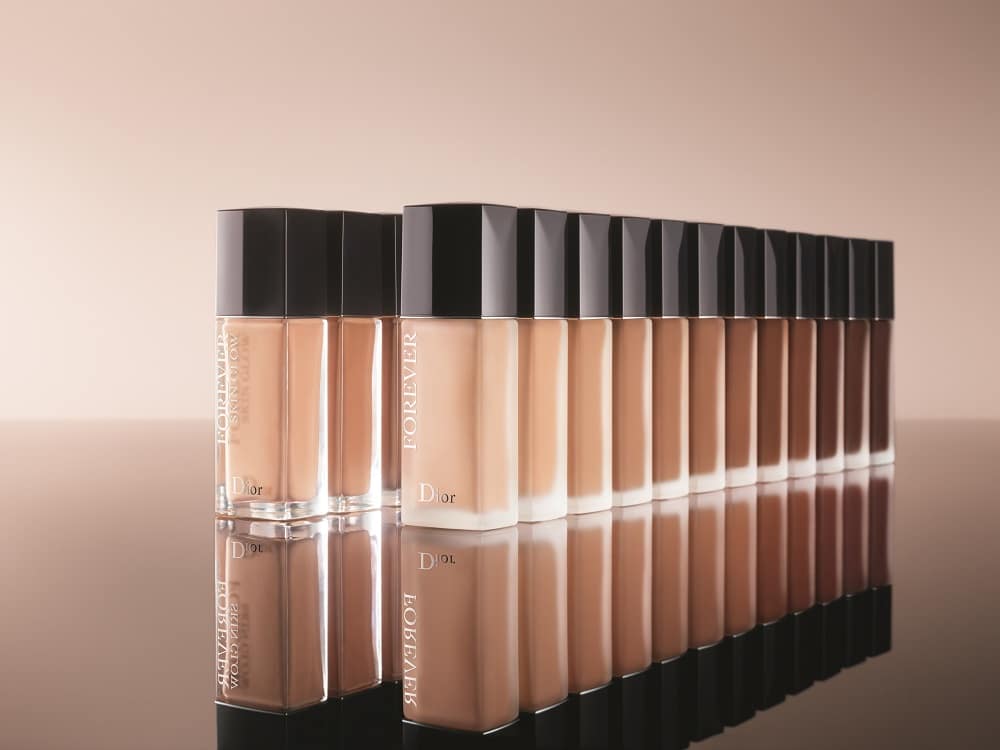 « WITH FOREVER, WE HAVE ENTERED A NEW ERA FOR FOUNDATION. WOMEN TODAY, WHO ARE EVER MORE EXPERT IN TERMS OF MAKEUP, CAN PLAY WITH FOUNDATION EFFECTS IN THE SAME WAY THAT THEY INSTINCTIVELY PLAY WITH LIPSTICK EFFECTS. » — PETER PHILIPS
EVEN TRUER, LONGER
24-HOUR LONG-WEAR* PERFECTION IN 2 FINISHES
* Instrumental test on 20 women.
Forever offers 24-hour* seduction. To create a second skin that stays true all day long, Dior laboratories have perfected the already cult Forever formula, incorporating new structural agents. The first is hydrophilic, creating a perfect adherence to the skin as well as an elasticity that renders the makeup film even more fusional. The second prevents the foundation from becoming destabilized by heat or humidity, enabling it to stay perfectly in place with unrivalled comfort.
BOTH THE FOREVER AND FOREVER SKIN GLOW FINISHES ALSO CONTAIN SPECIFIC INGREDIENTS THAT REINFORCE THEIR HIGH-FIDELITY FINISH.
*Instrumental test on 20 women.
THE ICONIC DIOR FOREVER MATTE
PERFECT SKIN TEXTURE
Spherical powders ensure glide, while absorbant beads help neutralise shine and create an ideal velvety finish. Transparent particles comfortably fix the foundation and reveal an absolutely perfect colour finish while avoiding a mask-like effect. "As long as it is luminous, you can't go wrong with a matte finish. Dior Forever is always flattering, in all situations. It evens out the complexion and blurs imperfections and fine lines." — Peter Philips
DIOR FOREVER SKIN GLOW
A SHINE-FREE VIBRANT COMPLEXION
Lightweight oils, chosen to add glide and sensoriality, evaporate upon application. Hydrating agents add luminosity and offer a plump skin sensation while improving adherence to the skin. A radiant powder boosts ideal light reflection. "Forever Skin Glow is versatile. Depending on the ambient light it provides different effects. In soft lighting, it catches the light intermittently. During the day, in the sunlight, its presence is bolder. You can apply it all over to enhance the entire face, or you can use it to add touches of light for a more sculpted result. Everything is possible." — Peter Philips
EVEN MORE FUSIONAL
ENDLESS SHADES AND UNDER-TONES REVEAL THE PERFECTION OF EVERY COMPLEXION
Thanks to Peter Philips's colour expertise, Forever and Forever Skin Glow provide a colour palette that adapts to every skin tone. Shades reveal tones of cool, rosy, neutral, warm, peachy and olive beiges and browns for all different skin colours, whether light or dark. Its beautifying veil is undetectable on the face, so all that can be seen is the sensuality of perfect skin. The pigments benefit from a plant-derived hydrophobic coating, which resists humidity. The colour doesn't move, doesn't change and doesn't fade.
"WITH THIS RANGE OF SHADES, WHICH WAS VERY COMPLEX TO FORMULATE, WOMEN CAN EITHER ENHANCE OR CORRECT THEIR COMPLEXION COLOUR BY PLAYING WITH THE UNDERTONES. SO, FOR EXAMPLE A WARM COMPLEXION CAN BE ENHANCED WITH A WARM BEIGE, OR ON THE OTHER HAND, IT CAN BE COUNTERED WITH A NEUTRAL TONE. LIKE THE MATTE OR GLOW FINISHES, THE SHADE RANGE ENABLES YOU TO PLAY WITH DIFFERENT EFFECTS DEPENDING ON YOUR SKIN, STYLE, AND MOOD." — PETER PHILIPS
EVEN MORE SKINCARING
EXCEPTIONAL COMFORT AND PROTECTION FOR MORE DESIRABLE SKIN, EVERY DAY
FLUID AND VOLUPTUOUS, FOREVER AND FOREVER SKIN GLOW DON'T SIMPLY EMBELLISH THE COMPLEXION, THEY ACTUALLY IMPROVE ITS QUALITY DAY AFTER DAY THANKS TO METICULOUSLY SELECTED SKINCARE INGREDIENTS.
– PANSY EXTRACT, a hydration booster, provides balanced water circulation in the skin*. From morning till night, skin is protected from dryness. Perfectly comfortable, and plump-looking, it glows with radiant health.
– PROTECTIVE ROSE FRUIT EXTRACT, an anti-pollution protector and star ingredient of Forever for years, protects the skin from external aggressors. This extract also reduces the appearance of dilated pores, whether these are linked to excess sebum, dryness, or loss of firmness. With every application, pores tighten and the skin looks and feels smoother.
* Ingredient tested in vitro.
THE CAMPAIGN
FOR THIS NEW FOREVER SAGA, DIOR OPENS A CONVERSATION ABOUT FOUNDATION AS PART OF OUR LIFESTYLE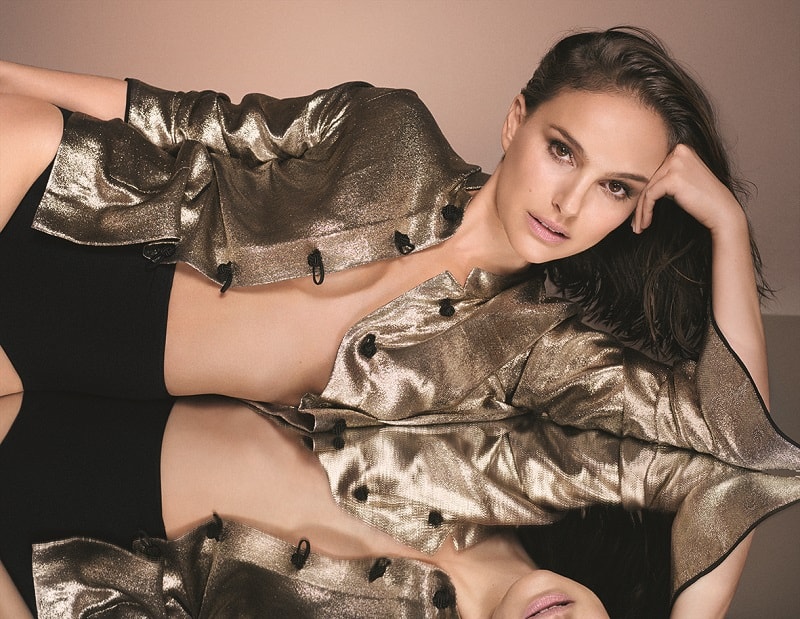 Natalie Portman, free and joyful, is back in front of David Sims's camera. Sexier than ever in her platinum gold lamé outfit, she lets her sensuality speak with grace and self-confidence. Her foundation? It's more than skin deep. Confident of having beautiful skin, seduction becomes a game which she's sure to win.
YOU'LL LOVE YOUR SKIN$ IN DIOR. FOREVER.
Share on: